HPC Resources
HPC.NRW offers scientists access to HPC resources to carry out their complex research projects. The HPC resources in Germany are arranged hierarchically in the so-called HPC pyramid.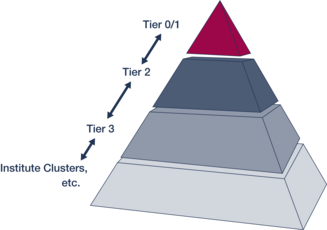 Scientists of German teaching and research institutions should, if available and suitable for their needs, use their local resources in the Tier-3 centers. If you need less than a certain amount of resources per year, it is not necessary to submit a full proposal for computing time in most HPC centers, as you can use your personal quota (e.g. fair share). However, it is comon practice that only members of the respective universities are eligible to use this option.
If you need more resources than your center can provide, you do not have a local HPC center, or your project requires specialized hardware (e.g. larger memory, more cores/CPUs, GPUs), you are welcome to contact another HPC center or request computing time at a higher tier (e.g. Tier-2/Tier-1). We attach particular importance to ensuring a basic supply of resources for sites without Tier-3 capacity and the universities of applied sciences. In such cases, the Tier-2 centers Aachen, Cologne and Paderborn offer uniform, structured access for HPC users at all universities in NRW. In a similar vein, smaller, short-notice computing projects and teaching ventures are also covered in the corresponding project classes. We also offer consulting services for locations without HPC centers.
HPC.NRW offers assistance to users in order to ensure that transitioning between the different tiers (especially between Tier-3 and Tier-2) remains transparent. This includes support in determining the scalability of the application – a first starting point here is our HPC Wiki. These measures facilitate a successful application based on the requirements of the DFG (German Research Foundation) and the above-mentioned criteria.
Only very experienced users with highly scalable codes and large computational time requirements should apply for large-scale projects at Tier 1/Tier 0 level. Scientists from abroad must apply for computing time through PRACE, a partnership that grants access to world-class HPC systems across Europe.
For more information on the available infrastructure and how to apply, please visit our websites.